Date: 25th November 2023


Venue: TBA


Timings: TBA
RSVP: Coming soon
CFP: Coming soon
Call for Speakers for our November Meet-up is now Open


Propose a talk: Propose a Talk - FOSS Meetup Delhi


: SFLC, Jangpura


: 4:00 - 6:00 PM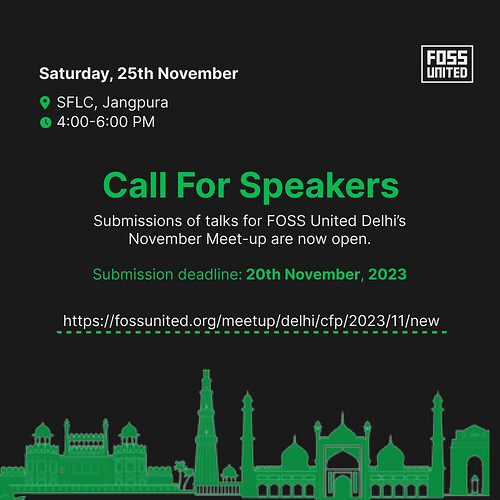 RSVP to let us know you're joining us! FOSS Meetup Delhi - November 2023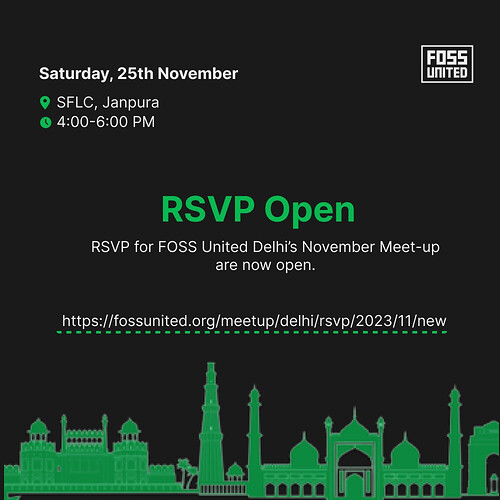 The agenda for the upcoming #FOSS Delhi Meetup has been released

Timings: 4pm to 6pm

Venue: SFLC, Jangpura

Location: https://maps.app.goo.gl/i4rQKqsSgGX3vnt26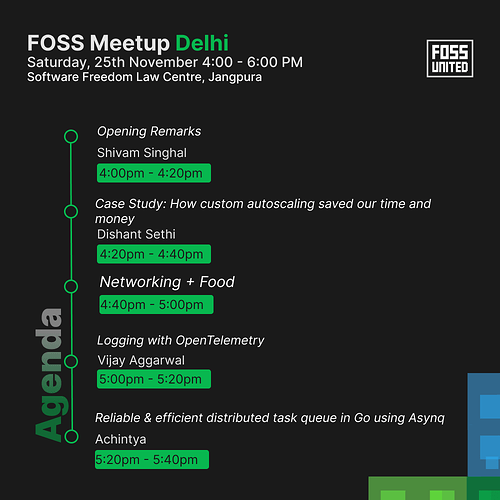 FOSS Monthly Meetup Wrap - November 2023
We started around 15 minutes late because attendees were still coming.
Although we asked everyone to introduce themselves to each other; this helped in networking session where everyone was talking to each other.
Overall, I think the meetup went very well, everyone gelled with each other and there were a lot of first attendees too!
The Good
Had very good speakers!

This included the ex-CTO of BharatPe
Yash reached out to speakers due to which we had our majority of CFPs

The turnout was as usual i.e. around 40 people.

We probably can look into increasing the participation

SFLC Venue was good in terms of staff's support, location, and projector setup was workable too.
The new volunteers(Yash, Arpit, and Ridhima) showed up!
Can be improved
Delays from Venue POC needs to be accounted for. We had to fallback to SFLC and attendees said it was a bit congested.
Sending pre read material for talks which can be complicated for our primary audience (college students)