Presenting you all the Panel Discussions on
"Nurturing FOSS: A Community Effort"
at our FOSS United Bangalore May meet up with
Dr. Kailash Nadh, Nitin Kumar, Sudhanshu Yadav, Meenu Makkar, Tapas Adhikari and
Krutika Thakkannavar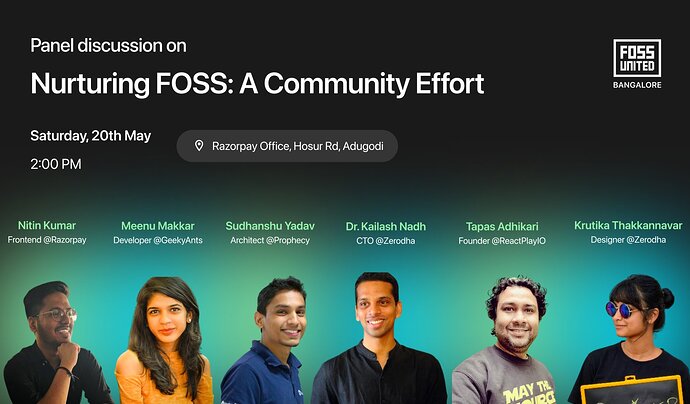 We are super excited to announce the full talks and speakers for FOSS United Bangalore may meetup.
Growing India's FOSS Community by Vishal Arya
How I Built An Alt Text Generator To Improve Web Accessibility by Aditya Oberoi
A glimpse into the world of unix init systems by Siddarth Tewari
Launch of Samaaja - FOSS for Location Based Citizen Engagement Services by Gauthamraj Elango
Exploring Resumability: How it makes Instant Loading Apps Possible by Kedar Basutkar
Here are the lightening talks and speakers for FOSS United Bangalore may meetup!
Genesis Project : Bridging the Gap between Tech and Social Development by Riya P Mathew
Hacking Hackathons by Anushka Bhagchandani
Unveiling the Journey of "Chakde System Design" and the Vision for the "Frontend System Design" Community by Chirag Goel
FOSS at Universities in the 2020's by Anirudh Rowjee
Maximizing Agility with Feature Flags by Shreya Prasad
I missed to RSVP. Can I attend the event?
Hi sorry the RSVP is closed. Do join in our next meetup

The anniversary special May meetup talk recordings are now posted on our YouTube channel!
Check it out here.