Dear FOSS activist,
MiniDebConf Tamil Nadu 2023 will be held in Viluppuram, Tamil Nadu hosted by VGLUG Foundation (https://vglug.org) . It is a smaller version of the Debian Conference which focuses on Debian, FOSS by conducting talks and workshops on various topics.
We cordially invite Debian contributors, FOSS activists, and working professionals to present a talk on behalf of the conference on the following topics or your area of interest:
Debian and FOSS related topics

Artificial Intelligence, Machine Learning, NLP, Deep Learning, Open Source AI

Robotics, Open Hardware, IoT

Cloud & DevOps, Micro-services, Kubernetes, Distributed Services, Digital Sovereignty.

Blockchain

Web and Mobile Technologies
We believe that your experience with FOSS will benefit other groups of FOSS activists, hence we would like to invite you/your organisation to present a talk, demo, and workshop.
Call for proposal:
Start Date : 25 December, 2022
End Date : 10 January, 2023
For more details - Call for Proposals - MiniDebConf Tamil Nadu 2023
Wiki page - https://wiki.debian.org/DebianIndia/MiniDebConfTamilNadu2023/
Poster link: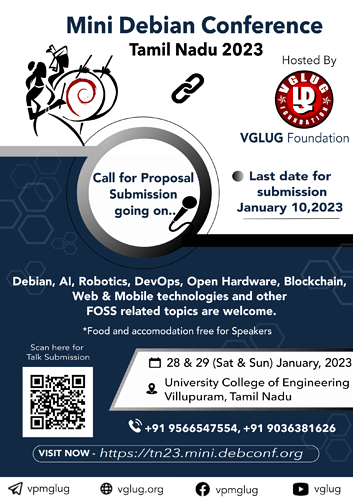 Conference Date:
28 – 29 January, 2023
Venue:
University College of Engineering, Viluppuram, Tamil Nadu, India
Regards,
MiniDebConf Tamil Nadu Team.