UHack 5.0 is a 24 hour online hackathon organized by Team UHack from 18th November to 19th November 2022.
UHack was planned in an offline mode. We saw a total applications of more than 1400 and upon tedious selection process ,about 30 teams were invited at the GGSIPU main campus to build their hack. We incorporated about 20 projects in our roster.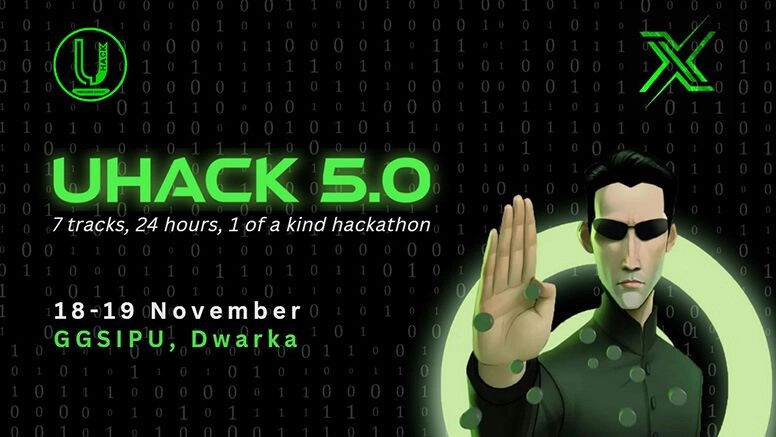 UHack 5.0 did not revolve around one specific theme. We gave our participants complete freedom to choose from one of the seven mentioned themes. These themes were Healthcare, Education, Fintech, AI/ML, Utilities,Web3, and Open Innovation. We believe in allowing the participants to use every bit of creativity to come up with creative and innovative ideas without being bound by some problem statements or a theme.
Many participants were first-time hackers, so we organized beginner-level workshops to get these people started with hacking. We also had a team of experienced mentors available 24*7 to clear any doubts the participants had.
We had many fun activities in the due course of event.
After 22 hours, the teams were given a soft deadline to start submitting their projects. The submission criteria were to include a 2-3 minute video explaining the project, a link to a public repository of their project, and a detailed project description. The hacking ended at 2 PM, 19th November , after 24 hours.
The winners were announced shortly after the judging round on 19th September. The participants had put a lot of effort into their projects. Choosing a winner and judging their efforts was one of the most challenging tasks.
WINNERS OF UHack 5.0:
Overall First - The Run
Team name : Team Invaders
GitHub repo: https://github.com/Krish-bhardwaj/The-Run
Overall Second – Advance Meets
Team name: access-denied
GitHub repo : GitHub - krrish-jindal/advance-meet
Overall third – Entech
Team name: Team Decepticons
GitHub repo : GitHub - aakankshsingh02/UHACK
Thanks to FOSS United for supporting this event!
Here's the project gallery if anyone is interested: https://uhack5.devfolio.co/projects